Convenient, reliable, secure, efficient and flexible. Used by 80% of all US companies, direct deposit is one of the least expensive and most popular employee benefits around.  A cash management tool that allows for multiple account disbursement, direct deposit gives your employees access to their pay regardless of holidays and vacation schedules. No long bank lines, "mad dashes" to deposit checks (possibly at your expense), high check cashing fees, lost or stolen checks.  Pay data is available on easy to read payroll vouchers or you may choose to e-mail your employees voucher to their personal e-mail account through MyPayrollWeb.com.
Cut costs
Remove lost or stolen checks incidents
Multiple account allocation
Eliminate time spent depositing paper checks
Easy-to-read vouchers with earnings statements
No more bank holiday or vacation disruptions
ATM Debit Card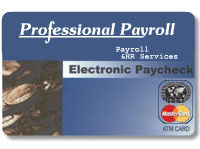 A perfect solution to those employees who do not have bank accounts. The reliability and safety of a direct deposit are combined with the convenience of a purchase debit card. Employees have access to their funds via any Plus, Star or InterLink ATM machines and can make direct purchases at many gas stations, grocery and retail stores.